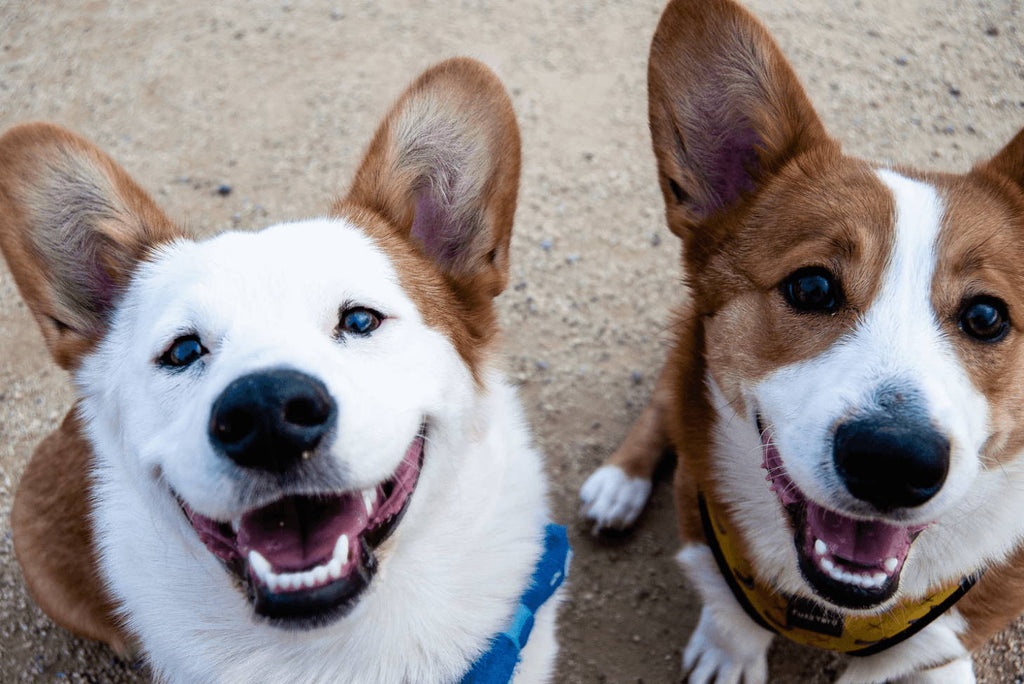 CBD is a powerful compound shown to have positive health and wellness benefits in both humans and dogs. Given how many pet parents have started turning to CBD as a natural solution for stress and anxiousness, there's still significant confusion out there about what the appropriate amount of CBD for dogs actually is.
The hassle of figuring out how much CBD to safely and effectively give your dog may be enough to deter you from using it again, or even trying for the first time.
At Kradle®, we believe in the power of CBD in addressing common pet stress and anxiousness, which is why we use it on our own dogs. But we understand you still have questions around how to safely and effectively give CBD to your dog. In this article, we explain the basics of CBD delivery for your dog and hopefully clear up any confusion.  
CBD Dosage for Dogs Guide Contents:
Three Primary Factors Impacting CBD Dosage for Dogs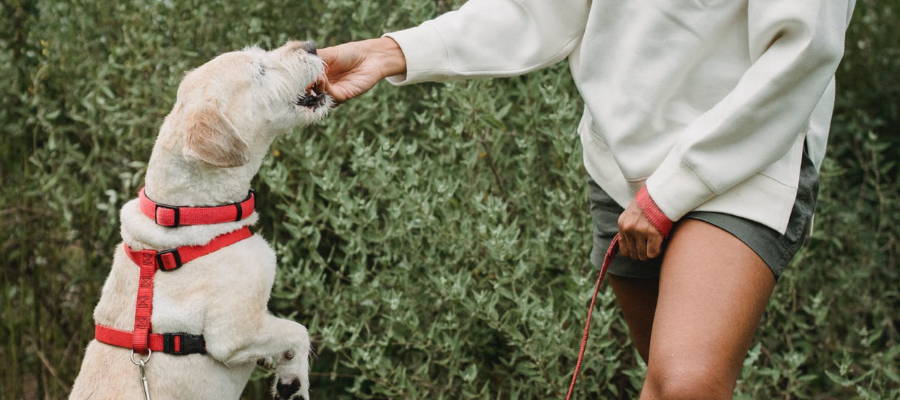 We always emphasize that every dog is different — and that sentiment is true especially when it comes to dosing. The perfect CBD dosage for one dog may not be right for another. Three primary factors come into play when evaluating the appropriate CBD dosage: the product, the situation, and your dog.  
1. The Product: You can find CBD offered in a variety of forms — oil tinctures, capsules, lotion, infused treats — and you should think about which would work best for you and your dog before making a purchase. Look for products that your dog will find appealing and readily take — forcing them to take something they don't want will only add to their stress…and yours.
Also look for a product that's easy for you to use. Consider products that are pre-dosed and easy to carry with you, so they're ready to go when you need it. Giving your dog CBD should be a stress-free experience for both of you.
Quality matters with CBD products. Check to see if the company producing the product publishes Certificates of Analysis (COAs) proving its purity and potency, so you know what you'll be giving your dog is safe and effective. Potency will show the things you WANT to have in a trusted product — like CBD — and purity the things you DON'T WANT to have. Trusted brands like Kradle® will always provide full transparency by showing results down to the batch level for every product made.
2. The Situation: Think about your dog's stress level or the anxious situation you're trying to address. The amount of CBD will vary depending on how stressful the situation is for your dog…the more stressful the situation, the more CBD that may be needed. For instance, your dog may need a smaller dose before they go to the park, but a larger dose before they visit the vet or groomer because it's more triggering and upsetting. So consider giving the upper end of the dosage range (see chart below) for situations you know tend to make your dog anxious.
For Kradle® products, you may give choose to give your dog two servings as opposed to one (i.e., two Chews instead of one, or 2/3 of a Bliss Bar instead of 1/3) on days you know will be stressful. You should not exceed more than one Melt per day, though, since they're already formulated to be fast-acting and dosed at the upper end for sudden stressful situations.
3. Your Dog: If you've ever tried using a dog CBD dosage calculator, you've probably been asked for your dog's weight. Weight does in fact play a big role in determining the appropriate CBD dosage. We place dogs into three different weight categories at Kradle®: small (5-25 lbs.), medium (26-50 lbs.), and large (51+ lbs.). Small-and medium-sized dogs typically don't need as much CBD as large-sized dogs.
Here is our recommended daily CBD dosage range for each size of dog: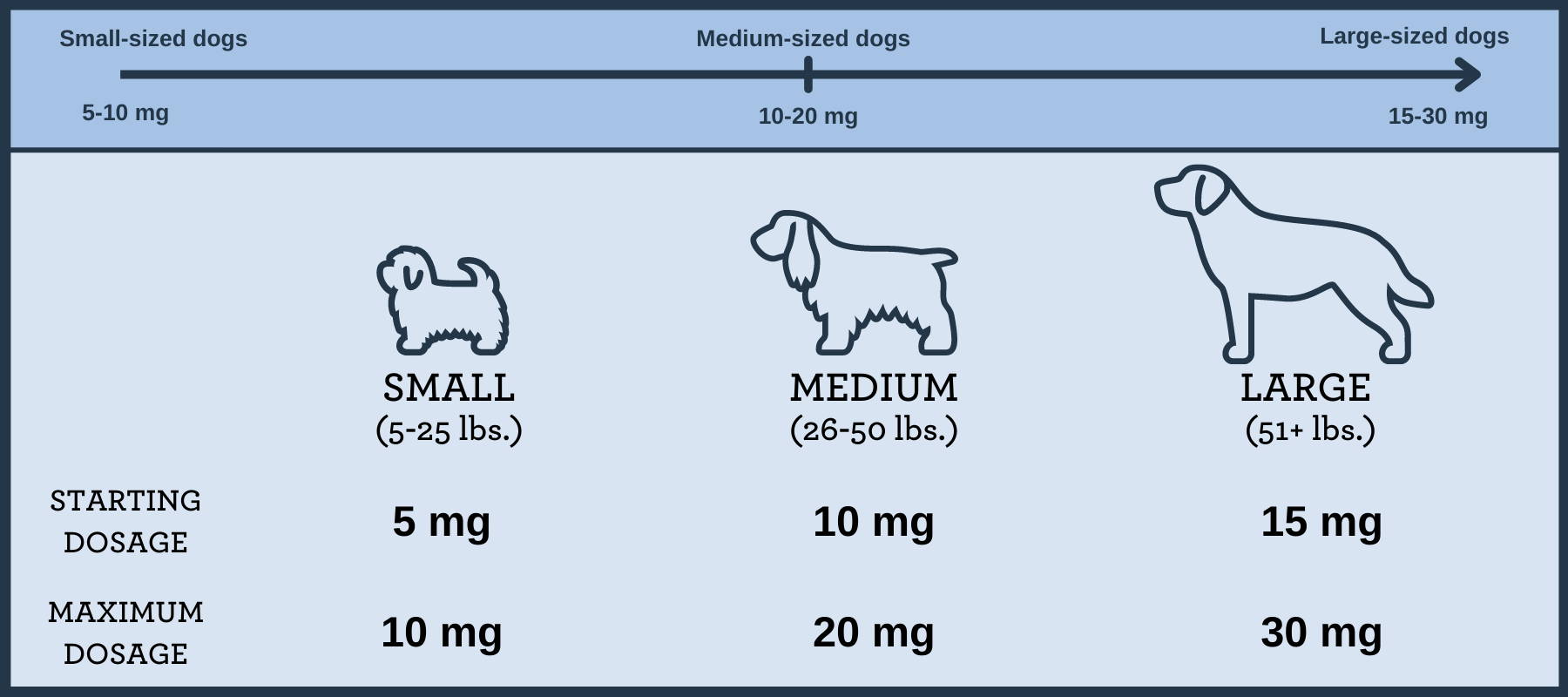 DOSAGE TIP: As tempting as it may be, don't ramp up dosage from the get-go. A good rule of thumb is to start with the lowest recommended dosage and go from there. Some dogs will respond well to an even lower dosage. Do not exceed the recommended dosage under any circumstances, as your dog may experience side-effects such an upset stomach.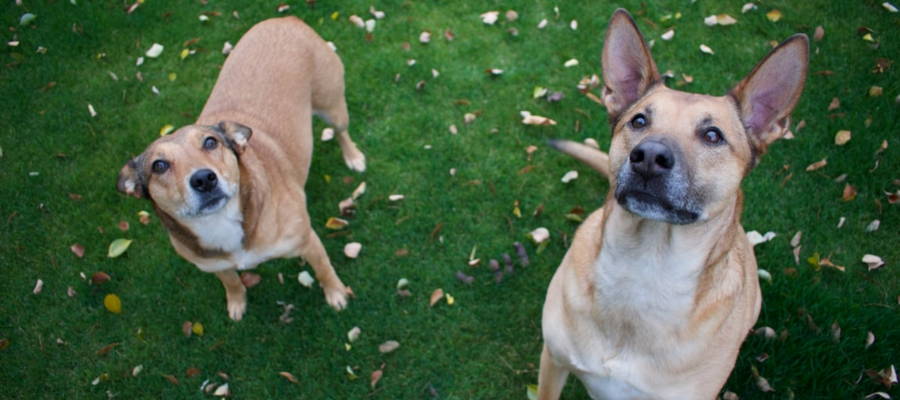 Even if a product is dosed by weight, additional factors can still influence the right dosage for your dog. Each dog is inherently unique, so you must account for the "ABCS" — Age, Breed, Character, and Size/Sensitivity. You know your dog best, and will know how these factors may influence the dosage you want to start with based on your previous experiences.
Age: Age can impact your dog in multiple ways: mood, metabolism, digestion, and overall comfort — which can in turn impact how they process and respond to CBD. What works at one age or stage in your dog's life may change over time. Senior dogs, for instance, often are more anxious than they were in their younger years. They become more sensitive to change and less confident in their own abilities, so you may need to up the dosage as your dog approaches 10+ years. For younger dogs, we do not recommend giving your dog any CBD-containing product until they have transitioned off of puppy food, which can vary based on the breed.
Breed: Some breeds are more sensitive to certain foods, sounds, touch, scents, sights, and even medications than others. CBD is no different, which is another reason why we recommend starting at the lowest recommended CBD dosage.
Character: Many call it "temperament", but we prefer "character" or "personality." Every dog has a unique character or personality. Even within breeds, some dogs are bold and outgoing while others are more sensitive and shyer. Take that into account when deciding how much to give and when.
Size/Sensitivity: At Kradle®, we've worked hard to eliminate much of the guesswork by establishing dosage recommendations based on size. But, as we've noted above, size is only one factor that impacts how CBD and Kradle® products will work for your dog.
Telltale Signs the CBD Dosage Is Enough, or Too Much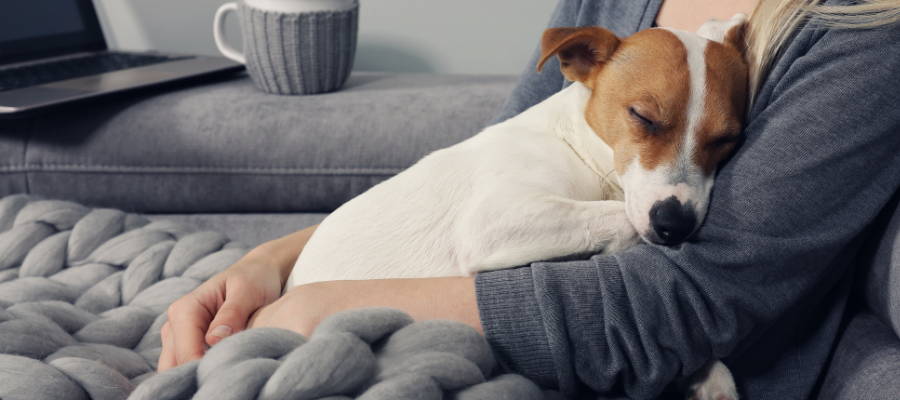 If you're wondering how to know you've given your dog the right CBD dosage, you're not alone. It's a common question many pet parents have, especially those new to CBD.
Our founding belief and goal of our products is to Lose the Stress. Love your Pet™ by taking the edge off; not turn your dog into a zombie. Your dog should display fewer signs of stress, but still be your same old loving companion. If your dog becomes lethargic and doesn't want to play, walk, or do the fun things they would normally do, then you should probably dial back the dosage.  
It may take several days before you start seeing a noticeable difference in your dog's behavior, so don't worry if results aren't immediately noticeable. Food can also have an impact on the uptake of any ingested substance, including CBD. It typically will slow down the uptake, but a healthy amount of fat may actually increase the total uptake and bioavailability of many nutrients and other substances like CBD.
Stick with the recommended dosage listed on the product label and pay attention to your dog's behavior with each passing day. The length of the calming effect will once again depend on the dog. When signs of stress start to resurface, that's your clue the CBD is wearing off.
If you're not seeing the results you want at a higher dosage, you should consult with your veterinarian or do some additional research on your own. Like we said above, if you exceed the recommend dosage, your dog may experience unpleasant side effects. If they do start experiencing these things, discontinue use and get that under control before trying a smaller dose.  
Common CBD Dosage Questions from Pet Parents Like You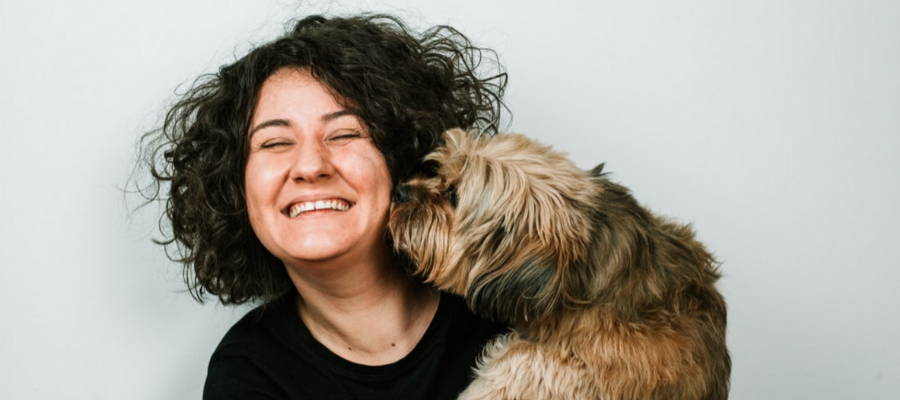 We get a lot of questions about safe and effective CBD dosages for dogs from pet parents like you. We've listed our answers to the most common ones below, but please feel free to email us at support@kradlemypet.com if you have a question not covered here.
1. When is the best time to give my dog Kradle® CBD?
In most instances, the best time to give your dog Kradle® CBD is 15-30 minutes before a more stressful encounter. If you're giving your dog Kradle® on a daily basis, try to give the products at the same time each day or night. Don't be afraid to experiment with timing!
2. How long do the Kradle® Melts last in my dog's system? What about other Kradle® products?
There isn't a lot of data on how long CBD and our BotaniTek™ ingredients last in a dog's system, but based on observation and personal experience, most dogs seem to show some effects for somewhere between 6-10 hours; some more, some less.
3. How long will it take my dog to feel the calming effect?
You should start to notice reduced stress or anxious behavior in your dog within 30 minutes. Kradle® products are formulated to help calm your dog quickly, but since each dog's system is a bit different, our products may take longer to work in some than others. As with any supplement consistency is key. You can expect to see a noticeable calming effect within 7-10 days of continued use.
4. Can I use a combination of Kradle® products at the same time?
You can give your dog a combination of Kradle® products, at the same time or different times, as long as you don't exceed two servings total per day. The serving size for Melts is one per day, so you should never use them in conjunction with Chews, Toppers, Bliss Bars, or Chillers.
5. If my dog is right on the weight line of small and medium, or medium and large, which Kradle® product size should they get?
We generally recommend that you "start small." However, that's a decision that only you can make, based the ABCS and your observations.
6. How much Kradle® CBD should I give my dog before fireworks or other high-stress situations?
You should always follow dosage recommendations on the package. Again, if you know the situation will be highly stressful, you may want to up your dog's dosage — two servings instead of one. Our Melts contain an extra boost of CBD and are formulated to work especially quickly, so they'll be your best bet for sudden high-stress situations like fireworks.
7. Can my dog overdose on CBD?
Although our products were formulated with a large safety buffer, you can certainly give a dog too much. We wouldn't necessarily characterize it as an "overdose" since the toxicity level would have to be extremely high. Human doses of CBD have been documented to be generally safe at 1500 mg per day, which would be the equivalent of approximately 390mg of CBD in a 40-pound dog, or 39 (10 mg) medium Chews. If you follow the recommended dosage guidelines, you'll stay very, very far away from reaching that point.
8. Will CBD make my dog "high?"
Your dog will absolutely not get high from Kradle® CBD. CBD and THC are not the same thing — unlike THC, CBD is non-psychoactive. Our products contain broad-spectrum CBD derived from the highest-quality American-grown hemp and do not contain any detectable amounts of THC.
9. Will CBD make my dog sleepy?
We love our dogs and intentionally formulated Kradle® to help calm your dog in response to stress and anxious situations without knocking them out. Your dog may just seem more sleepy than usual because they can calm down enough to relax and take a nap. If your dog does become lethargic, dial back the dose or discontinue use.
How Kradle® Makes CBD Dosing Easy
Kradle® completely takes the guesswork out of CBD dosage for dogs with the perfect dosage in every product, every time. CBD oils and tinctures are especially difficult to measure and administer, which is why we designed all of our products to be precisely dosed right out of the package for no mess and no waste. With Kradle® products, you won't spend excessive time trying to fill a tiny dropper to a certain graduated line and then go through the trouble of getting it all into your dog's mouth (which, like you, they'll never enjoy).
Our five product forms — Chews, Toppers, Melts, Bliss Bars, & Chillers — make it easy and convenient for you to give your dog the stress-relieving help they need, when they need it. Throw an extra pack of Melts in your car or doggy bag so you're always prepared when "surprise" stressful situations pop up.
We've carefully formulated our products with a large safety buffer that is still effective. Kradle® Chews, Toppers, & Melts are offered in three sizes (small, medium, and large):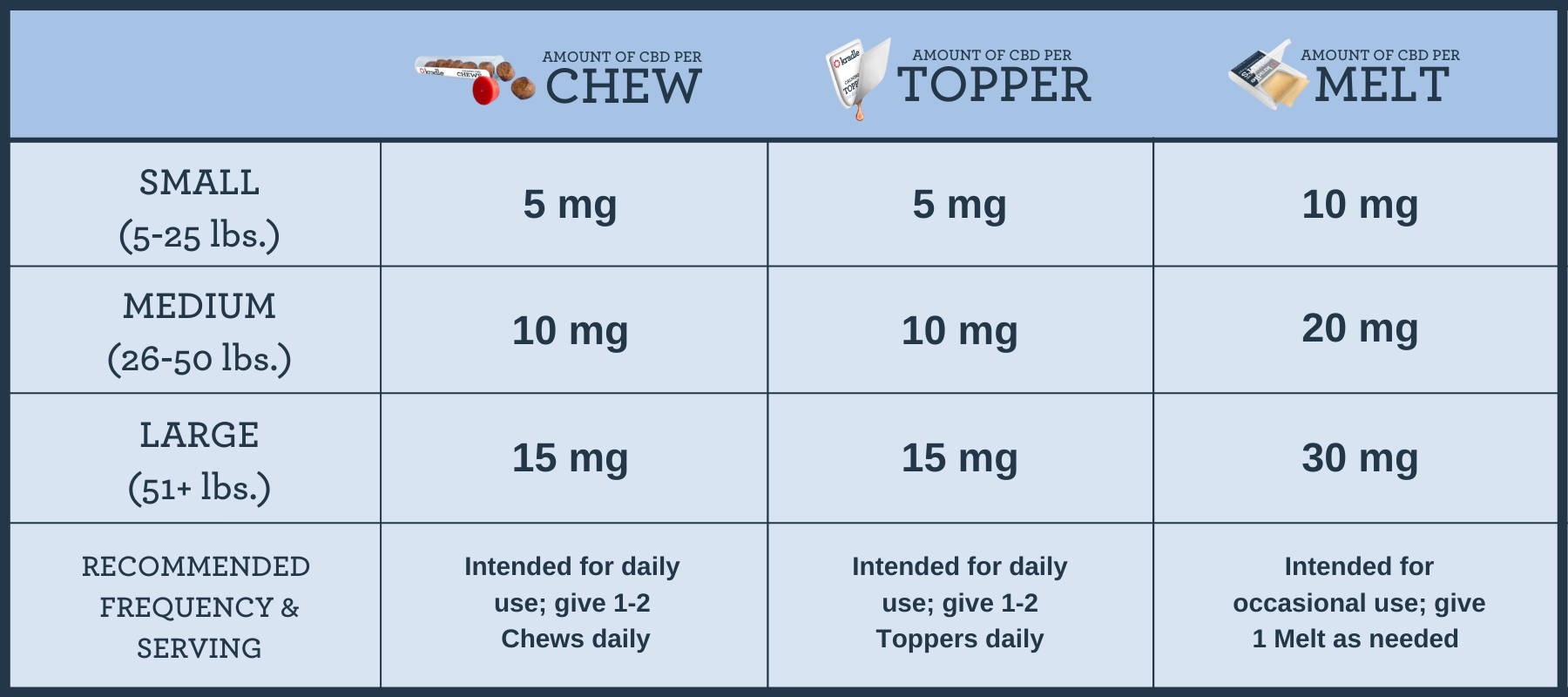 While Bliss Bars & Chillers do not come in separate small, medium, and large sizes, they do break into three and two pieces respectively for just as easy of dosing. Each Bliss Bar contains a total of 15 mg of CBD and each Chiller a total of 10 mg: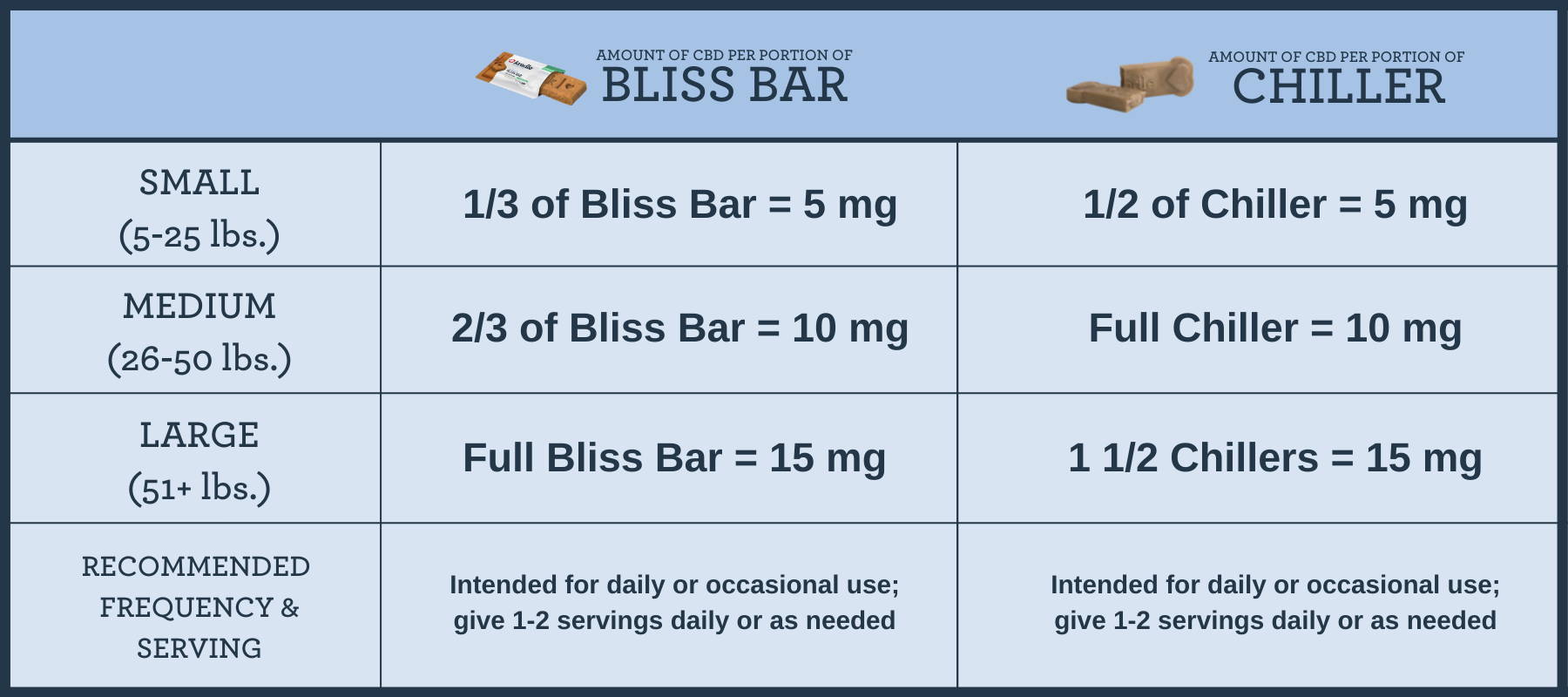 You can review our Certificates of Analysis (COAs) down to the batch level to see the purity and potency of our products for yourself. And remember, never purchase CBD from a brand that's not fully transparent in showing you its COAs.
DOSAGE TIP: Allow your dog some time to become acclimated to the dosage before you decide whether it's working or not. You should see results within seven to ten days of repeated Kradle® use. Under our Stress-Free Guarantee, if you don't see the results you and your dog want, we will work with you to find the right product or fully refund your order.
The product, the situation, and your dog are the primary factors that impact the appropriate CBD dosage. Find products that your dog will readily take and consider how stressful the situation is and your dog's weight when determining the right dosage for yours.
The ABCS – Age, Breed, Character, Size/Sensitivity — can also impact dosage. Start with the smallest recommended dose and go from there. You know your dog best!
You'll know that you've given your dog the right CBD dosage if they display fewer signs of stress without losing their personality. If they become lethargic, dial back the dosage or discontinue use.
Kradle® products are precisely dosed by dog weight and offered in forms that are easy for you and your dog to use. Shop for Chews, Toppers, Melts, Bliss Bars, & Chillers.
Reach out to us at support@kradlemypet.com if you have any additional questions about CBD dosage for dogs.
Lee serves as Chief Quality & Regulatory Affairs Officer and has 25-plus years of experience in the food and beverage industry specializing in the dietary supplements sector. Since 1995, he has served as an avid speaker, presenter, and trainer on the topic of supplements, as well as the Dietary Supplement Health & Education Act, which was passed by the Federal government in 1994. He has served in regulatory, compliance, and quality leadership roles for such companies as Whole Foods Market and EAS (formerly Experimental and Applied Sciences). Lee lives in Arvada, a suburb of Denver, with his wife, Jeanine, twin sons, as well as two high-drive, spirited Border Aussies: Canela (which means cinnamon in Spanish), 7, and Rio (which means river in Spanish), 2 – both regularly enjoy the benefits of Kradle®.