The holidays are here! The hustle and bustle of this time of year can be stressful on the four-legged members of your household, and for you too. Give your furry best friend and fellow dog-loving friends the gift of calm this holiday season with Kradle.
Whether you're searching for a gift for your own pup or a friend's, we have all the inspiration you'll need in our 2021 Holiday Gift Guide below. ❤️
The perfect presents for your own fur-family and pet parents in your life.
For the Ultimate Kradle Fan...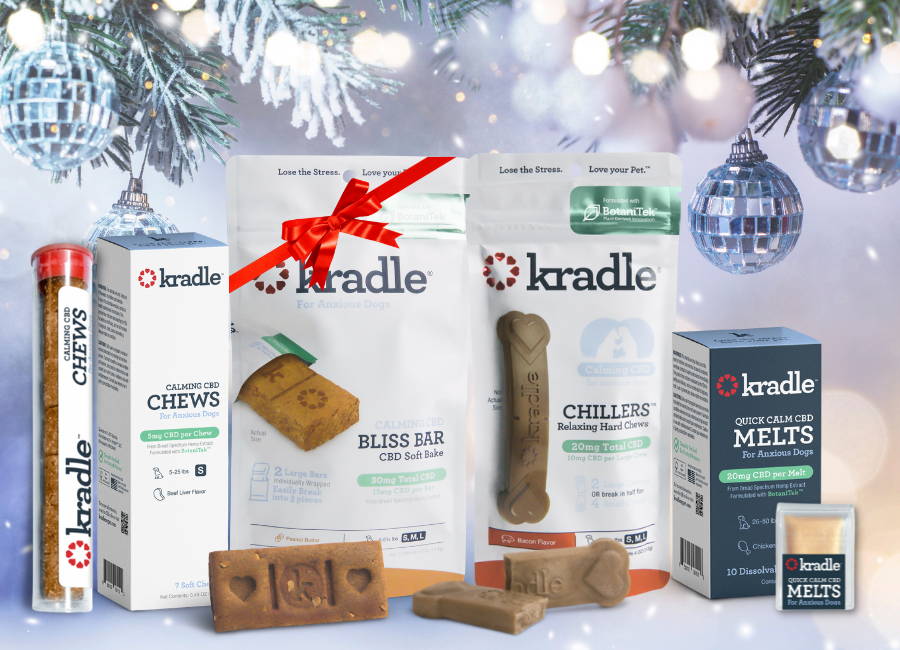 Calm & Bright Holiday Bundle.
With a selection of fast-acting and daily solutions plus a tasty flavor variety for even the pickiest palates, this bundle has everything your dog could ever want and need. These Kradle products all serve as great stocking stuffers for your furry friend and is sure to make the holidays enjoyable for your whole family.
Available for a limited time only.
Starting at $44.99. Save 15% when you purchase this bundle versus buying each product individually.
For Dogs Making the Nice List...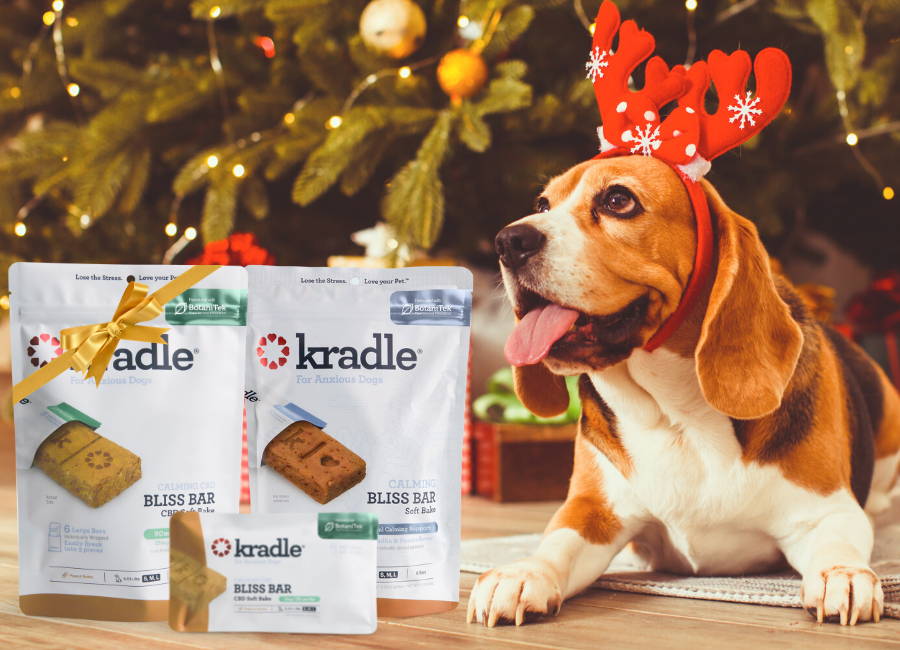 Bliss Bar Soft Bakes.
Made with REAL peanut butter, Bliss Bars are soooo soft, chewy, and delicious that your pup will think it's their reward for their good behavior this year — and rightfully so! Bonus points that Bliss Bars are just as calming as they are delicious.
Starting at $5.99.
For Families Who Love to Travel Together...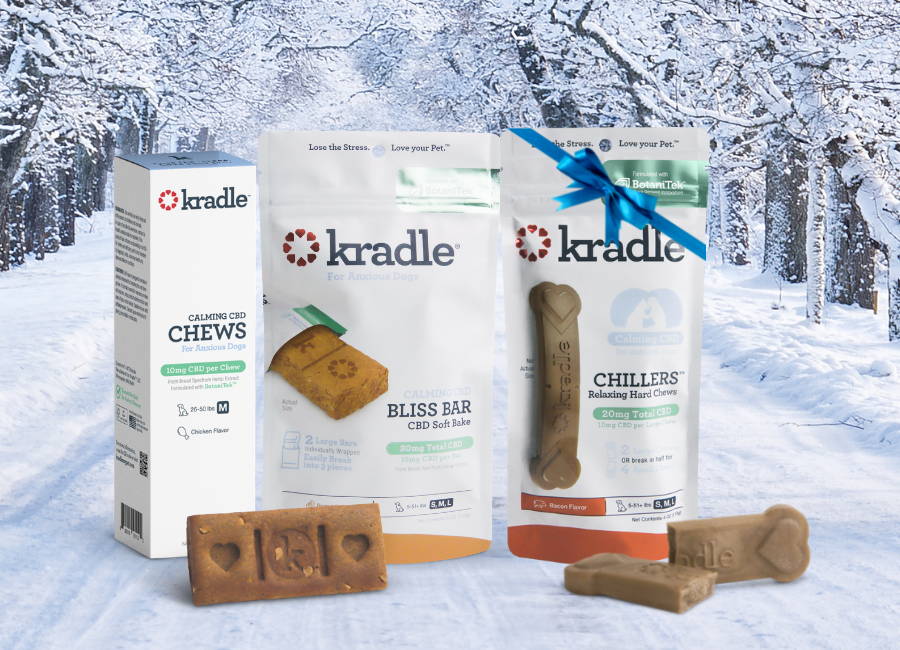 Road Trip Bundle.
We can all agree that holiday celebrations just aren't the same without our furry family members. According to a recent survey by Vacasa, 72% of holiday travelers say they will drive to their destinations this year. If you're one of them and bringing your dog along for the ride, or know someone who is, this bundle is a packing essential and makes for that perfect gift that will certainly be put to use.
Starting at $25.99. Save 15% when you purchase this bundle versus buying each product individually.
For Santa's Daily Little Helper...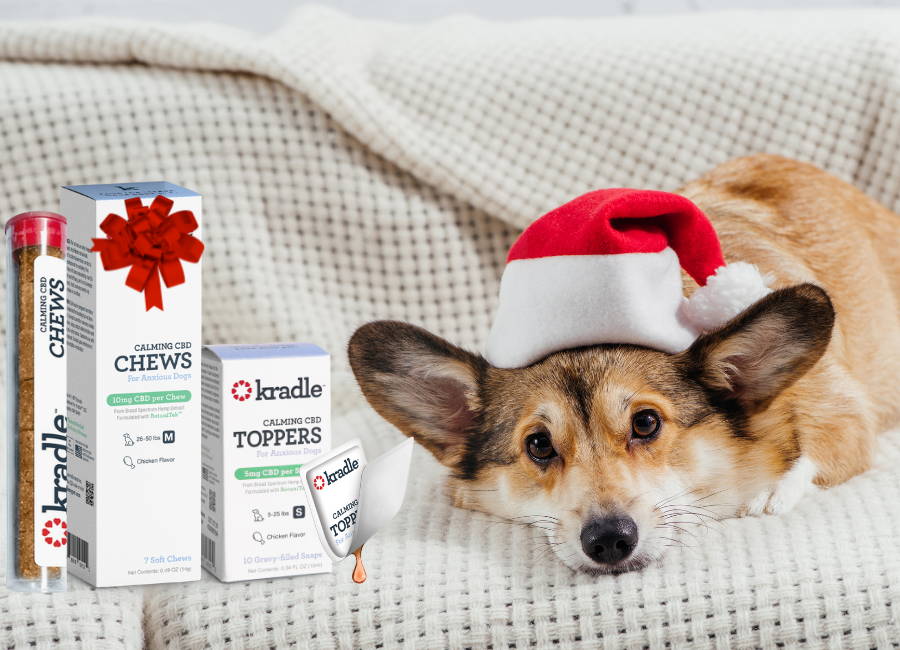 Daily Soft Chews & Toppers Single-Serve Snaps.
Helping Santa is no easy feat! If your dog is helping you create the holiday magic (running errands with you, providing the entertainment for new guests, and more), the commotion can stressful. Chews and/or Toppers are both intended for daily use and will help create a calm foundation in the days leading up to and on the holidays.
Chews starting at $12.99, Toppers starting at $19.99.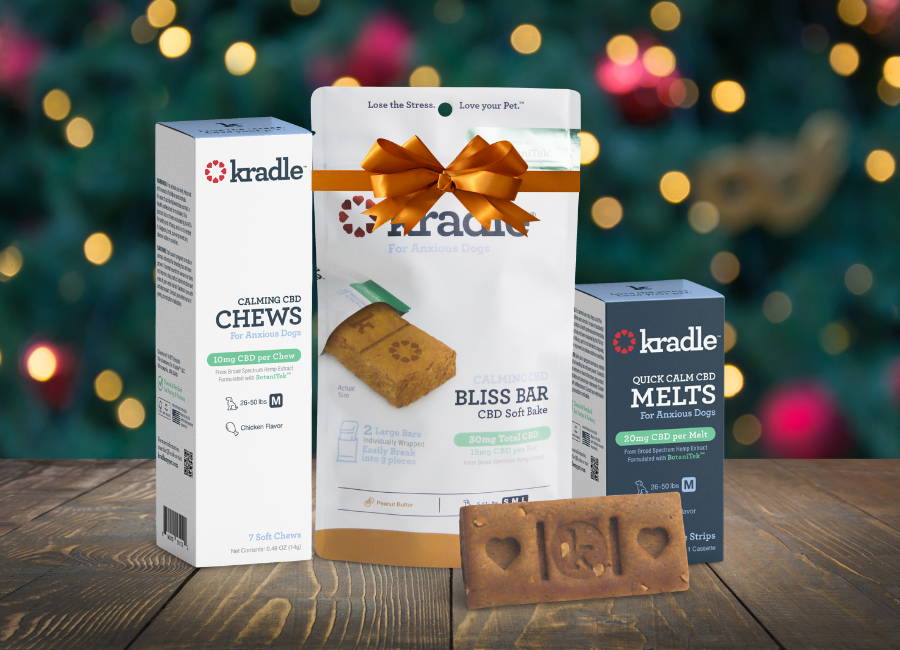 Best Sellers Bundle.
If you're new to the Kradle family, or you're not sure which product(s) a fellow pet parent would like best, start with this bundle! If delivers the three most popular, pup-favorite varieties of Kradle products in one package.
Starting at $34.99. Save 15% when you purchase this bundle versus buying each product individually.
Calming gifts at every price point.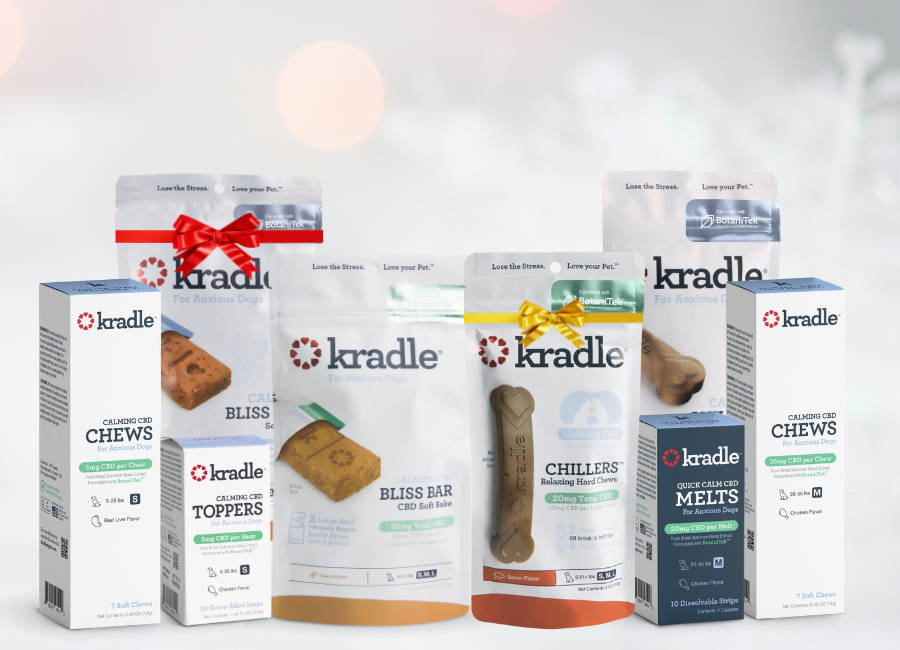 Every Kradle product is offered in a small-count size under $25, which allows you to try or gift a variety for less before committing to the larger-count size. 🙌
2-Count Bliss Bars starting at $9.99, 2-Count Chillers starting at $9.99, 7-Count Chews starting at $12.99, 10-Count Toppers starting at $19.99, 10-Count Melts starting at $19.99.
Still having trouble deciding? Let your friends (and fur-iends) choose for themselves! Surprise them this holiday season with a digital Kradle gift card.
Starting at $10.00.