Filled with celebration, family reunions, and fun festivities, the holidays are known as the most wonderful time of year for good reason.
For the four-legged members of the household, however, the months leading up to year's end are a lot to handle. Dogs are oftentimes faced with unfamiliar situations and people and their routines are greatly disrupted. As a result, they may display more signs of stress than usual.
It's important to understand what may be causing your dog's stress this holiday season, so you know how to help them remain calm. Below are some of the most common reasons dogs become stressed around the holidays and tips for helping your furry best friend stay in the holiday spirit.
1. Changes in routine.
During the hustle of holiday activities, normal day-to-day routines are typically thrown out the window, for both you and your dog. Dogs thrive on routines and predictability (dogs, they're just like us), meaning sudden changes are jolting and upsetting.
SOLUTION: Stick to the same feeding, playing, and walking times each day.  
Even amidst the holiday craziness, try to keep your dog's basic routines intact. Your dog will be more relaxed when they have at least some idea of what to expect. You may wish to give your dog Kradle Daily Soft Chews as the holiday season ramps up and it becomes more difficult to keep a routine intact.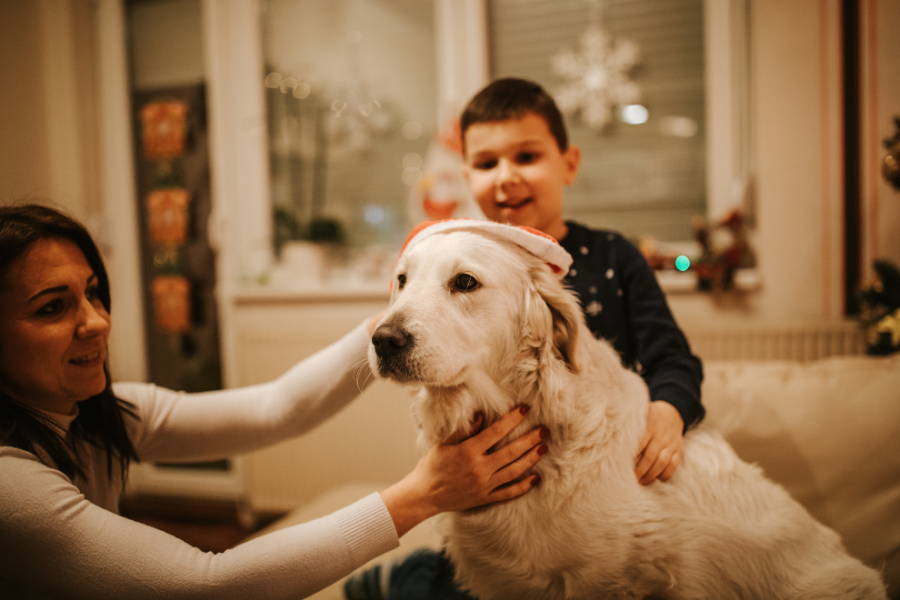 2. Extra visitors.
The holidays provide us the opportunity to reunite with the ones we don't typically get to see throughout the rest of the year. While these reunions usually entail happiness for you, they can be quite stressful for your dog. Some dogs have no problem welcoming new people into their home, but others find adjusting to party guests, long-term house guests, or extra family members more daunting. It can take time for dogs to warm up to new people.
SOLUTION: Create a safe space for your pet.
When it comes to any potentially stressful situation, it's always a good idea to have a space set up for your dog to retreat to. Choose a room (even a closet if it's large enough and has a light) in your house that's far away from the action and make it feel cozy with a bed, pillows, toys, and treats.
Consider giving your dog breaks from the festivities in the designated space before they become too overwhelmed.
3. Fireworks.
Fireworks have become the norm for many end-of-year celebrations, much to the dismay of our canine friends. The loud booms and distinct burning smell fireworks produce are a sensory overload for dogs and can cause them to become extremely distressed and anxious.
SOLUTION: Turn on and turn up the television, close all doors and windows, and shut the blinds to block the noise and smell from fireworks. Read more calming tips for fireworks here.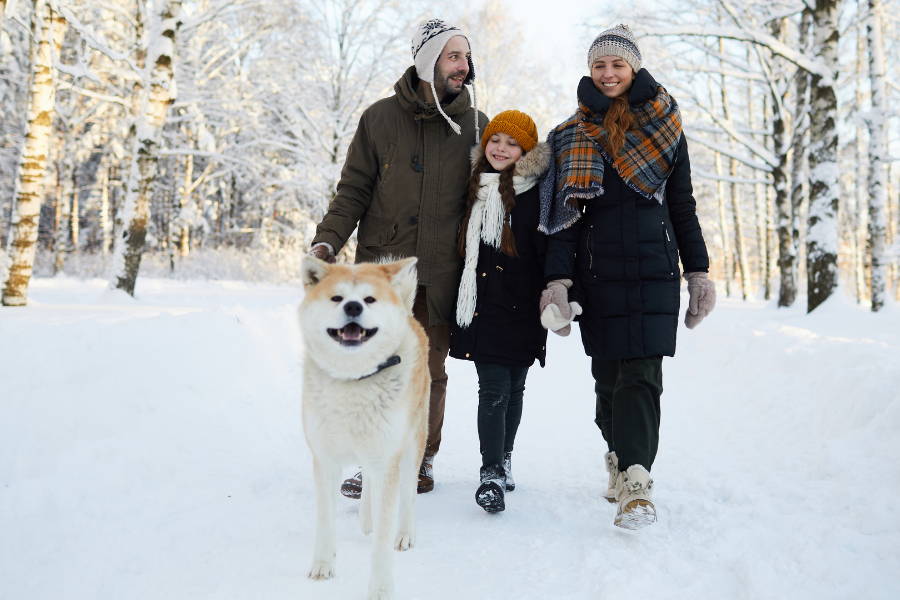 4. Less exercise, more energy.
Exercise is essential to keeping dogs feeling happy and calm. It's easy to push a walk to the bottom of the priority list during the holidays because there's just so much else going on. However, if your dog is lacking in exercise, all of their pent-up energy could turn into destructive or undesirable behaviors, such as incessant barking, chewing on furniture, and more.
SOLUTION: Add in an extra walk on busy days.
On the days you know you'll be having guests over or leaving your dog at home alone for a longer period of time, try to make room for an extra walk – or even extra play time. The more tuckered out your dog is, the more relaxed they'll be.
5. Taking on your stress as their own.
Your pet isn't the only who feels the holiday stress. The holidays present an array of demands from you, including cooking, entertaining, shopping…and more. It's stressful! Numerous studies have found dog owners can transfer their stress to their dogs. Some have even shown dogs have higher levels of the stress hormone cortisol when their owners go through long bouts of anxiousness (see Scientific Reports).
SOLUTION: Plan quality one-on-one time with your dog.
Holiday season is all about spending time with those we love, including our furry family members. Take your dog with you wherever you can, schedule in more walks and visits to dog parks, or simply cuddle up together in front of the fire. Quality time with your dog gives you a break from the constant go, go, go of the holidays and reduces your stress levels – and theirs too.
As always, Kradle is here for every dog & any anxious moment, including the holidays. Ensure your dog stays in the holiday spirit the entire season with our easy-to-use, easy-to-love calming products.
Want to completely de-stress the holidays? Check out our limited-edition Calm & Bright Bundle, featuring a selection of fast-acting and daily solutions plus a tasty flavor variety for even the pickiest palates.
Explore more Kradle solutions and read our 2021 Holiday Gift Guide for gift ideas for your own furry friend and fellow dog-loving friends.
You've reached the end of this article! See you next time. 🐶