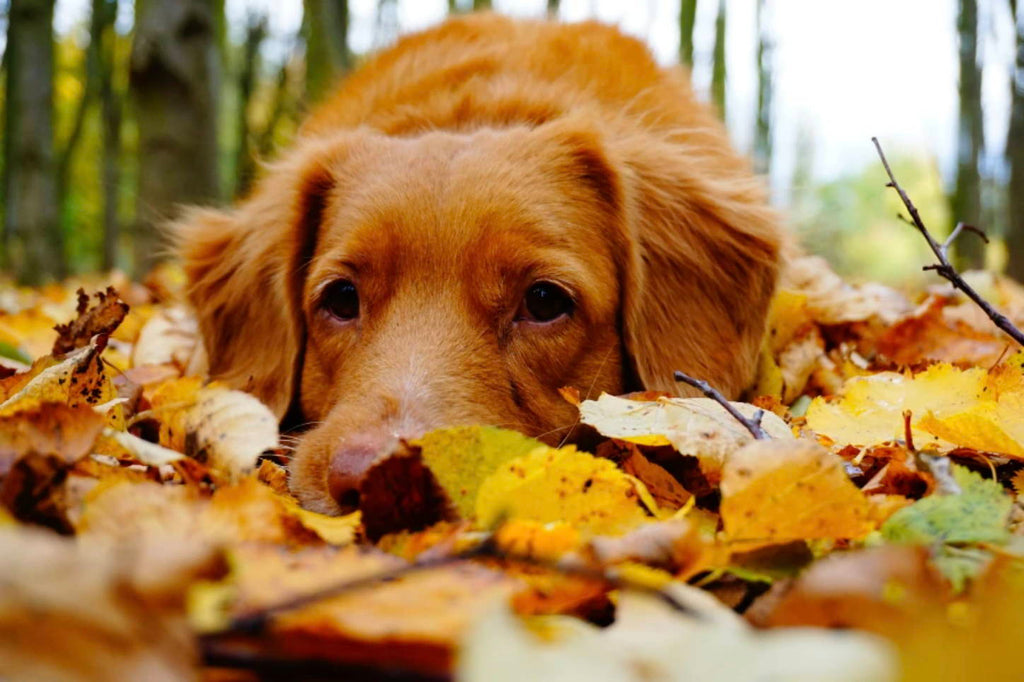 The return of football, pumpkin spiced treats, and trips to the apple orchard can only mean one thing: the first day of fall is finally here!
Cooler air and shorter days aren't the only changes we'll have to get used to. As with any transition, this seasonal change shakes up our routines and can pose new challenges. The beginning of a new school year, upcoming holidays, and the year-end fast approaching can make us all feel a bit on edge — and we're not the only ones who feel it, our furry family members do too.  
For many of us, the arrival of fall often means a busier schedule — the kids are back in school, we may have a heavier workload, all while trying to prepare for the holidays, etc. We become so accustomed to the more relaxed summertime routine that the transition into the hustle and bustle of fall is that much more stressful. That stress among humans transfers to each other, as well as our canine companions.
As difficult as it can be for us to adjust, it may be even tougher for our dogs. They've just been surrounded by their humans for several months on end (even more over the past year and a half due to the COVID-19 pandemic), so a suddenly empty house and less attention on them can be jolting. As we've said before, dogs thrive on predictability. The key to a seamless fall transition is setting a routine and sticking to it.
Definitely consider setting aside some time in your schedule every day to get outside with your pup! One of the best parts about fall is the beautiful weather and all the great smells. So, enjoy the exercise of a brisk walk, but let your pup smell the new aromas that only come about from fall. For most parts of the U.S., fall weather is the perfect time for dogs as it's no longer unbearably hot and not yet freezing cold. Multiple studies, including a recent one conducted by Cornell University, also show that people who spend more time in nature feel less stressed — so you can also reap the benefits of time spent in the great outdoors…with your pup. The list of festive outdoor fall activities our four-legged friends can enjoy with us is never-ending, but here's some of our favorites:
Pumpkin Patches! Your pup will love running through the field in search of the best pumpkin.
Apple Orchards! Pick some fresh apples with your dog (and then make apple treats after).
Nature Trails! There's nothing quite like a scenic walk with your dog through the bright, vibrant colors of fall. A picture-perfect moment! For those with fewer trees like the Southwest, take your dog on a dog-friendly hike.
Home-Made Treats! Create treats with a fall theme for your pup from natural ingredients.
Costume Contests! A terrific excuse to get our dogs all dressed up. Stay tuned for a special Kradle costume contest next month.
As always, you can help keep your dog calm during this seasonal transition with Kradle. Click here to start shopping.
Happy Fall!